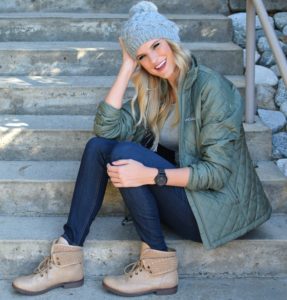 Since starting blogging earlier this summer, I have become keenly aware of brands and how they market their products. Beyond the self-interest of my own blog, I'm just generally curious and interested in how brands communicate, scale and succeed. While obviously many brands continue to use traditional print and digital advertising, the tidal wave of social media influencers continues to grow. One company that I quickly became aware of after entering the blogging world was JORD Watches. Why? Because it seemed like the more bloggers I followed, the more JORD watches I saw in my feed. SO. MANY. WOOD. WATCHES.
I felt skeptical about the look and feel of a wood watch, and I'm fairly monogamous with my man Michael Kors, but last week the influencers reigned influential and I ordered my very own JORD Watch.
Per usual I always want to share my honest opinion of products and experiences with you guys, and this is no different. Firstly, when I got my watch I was v. impressed with the packaging. The wood box is high quality and something about it feels old-school and luxurious.
Again, while I was a total skeptic on the watch itself, when I opened the box I promptly became every other girl on Instagram and fell in love! I'm so glad I got the the Hyde watch in ebony instead of one of the lighter wood options, because in my opinion that makes it a little more practical for everyday looks and that is what I was looking for.
It feels light and smooth and almost appears like a gunmetal to the eye. Give it a closer look and its obvious its a rich shade of dark wood. Which I think gives it a certain "cool" factor. The unique style of this watch has definitely been a conversation piece. I get asked about it all the time and have received a ton of compliments on it. It's definitely not a watch you would pick up at your everyday department store, and I really like that.
They offer engraving services for the inward-facing part of the watch's face. I chose to get mine engraved with Numbers 6:24-26:
24 "The Lord bless you and keep you;
25 the Lord make his face shine on you and be gracious to you;
26 the Lord turn his face toward you and give you peace."
This is a special scripture that my mom always told me growing up.  Something about it facing inward makes it feel special and would certainly be a beautiful gesture if buying this watch as a gift.
Let me know if you guys have any questions on these watches, or if you already own one, what you think! They have a line for men and women which is awesome for gift ideas this season! I have included a link below that you can click to get 25% off!
https://www.woodwatches.com/g/stylexjo