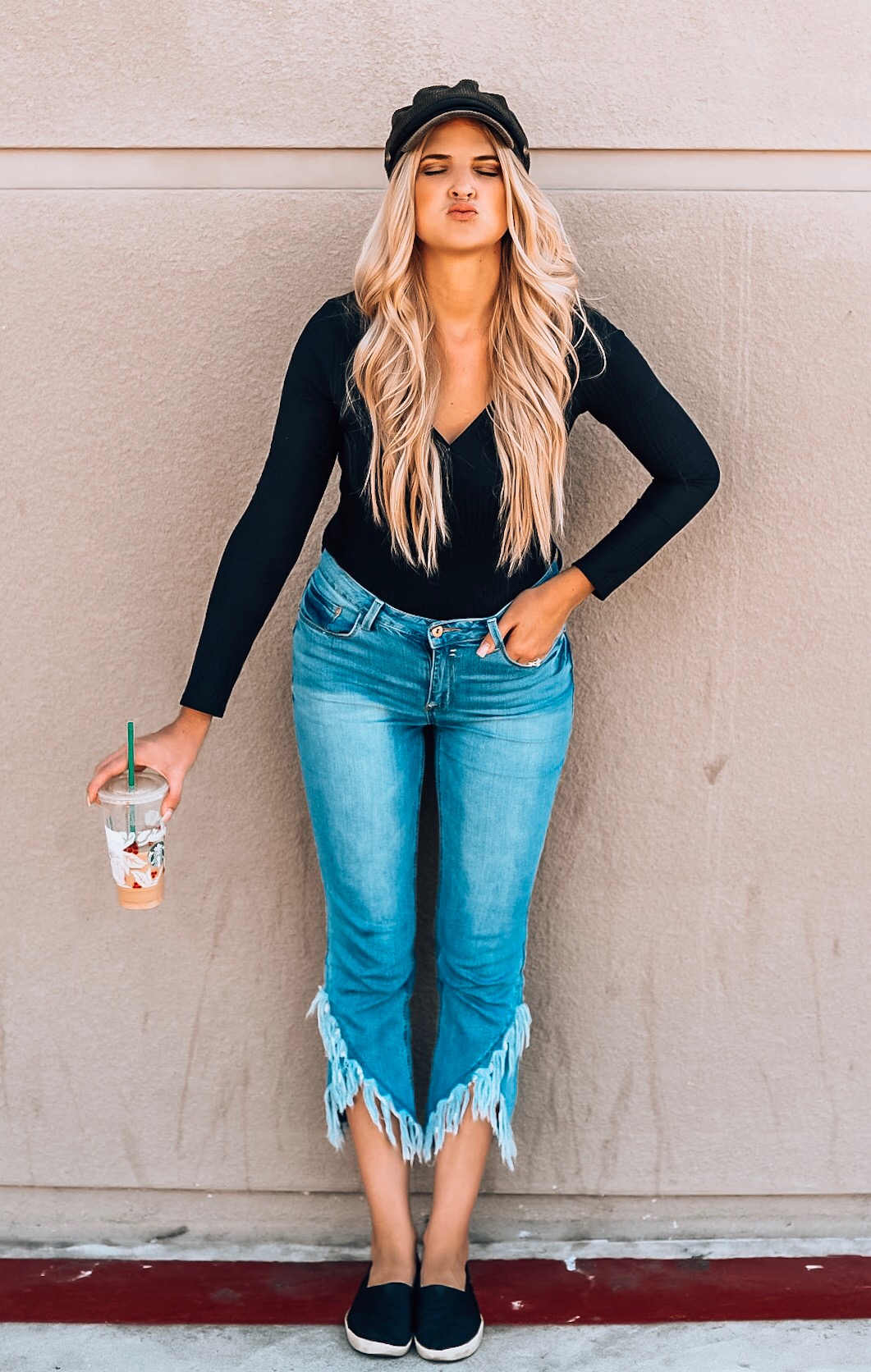 Hi Friends! For those of you just getting to know me, my name is Jamie and I'm the founder of Speaking of Style! I know there are a lot of new visitors here (#googleanalytics) so I wanted to take some time and introduce myself and answer some FAQs! Comment below or send me an email/DM if you have any questions I haven't answered. Thanks for connecting!
---
---
Where do you live?
San Diego, CA
Did you go to college?
Yes (Go Mustangs)! I went to Cal Poly, San Luis Obispo on the central coast of California and studied Communications and Psychology.
When did you start your blog? Do you blog full-time?
I started Speaking of Style in August of 2017. What started as a fun side-hobby with my sister (she does all my professional photo shoots!), has turned into a major passion and side-business. The blog keeps me really busy, but I LOVE my full-time job as a Business Development Manager at an engineering firm. I manage our Marketing staff company-wide, with a heavy workload of internal and external-facing communications. Balancing work and the blog result in late nights and working weekends, but I love that I get to pursue my corporate ambitions while playing with the creativity of creating a blog at the same time.
How did you grow your blog/Instagram following?
I'm going to write a longer post on this soon, but I'll give three of my biggest tips here:
STUDY. Everyday I read articles, blog posts, and research online marketing, social media, and influencer best practices. I also track my analytics/insights (Google and Instagram). I regularly study my favorite bloggers to see what strategies and channels they use to provide quality content to their audience. WARNING: This can very easily lead to panic and the comparison-game, so proceed with caution. Learn, but don't stress that you are different/less "successful"/not doing enough. Each path is different and success is not only in the number of followers you have!
GIVEAWAYS. Blogger Giveaways can be polarizing in the influencer space because often times giveaways are just focused on growth for growth's sake. I decided fairly early on in my blogger experience that if I was going to leverage giveaways as a marketing strategy then I wanted to coordinate my own giveaways instead of signing-up with companies that accept anyone on a "pay-to-play" basis. I only participate with other bloggers who are in my niche (US fashion/lifestyle accounts) who I genuinely think share the same market of followers. WARNING: I highly discourage participating in giveaways with international sponsors, 50+ accounts, low-quality images, and/or multiple-niche participants. I did one of these when I first started out and while I gained followers, I experienced a decrease in my engagement percentage.
ENGAGE. Like, comment, and DM fellow bloggers and your followers to create an authentic, engaged and loyal community!
What is Blush Influence?
The more I grew, the more I was getting questions from other bloggers on tips and strategies. Honestly, I think my entrepreneurial spirit, educational background, and professional experience positioned me really well to intuitively execute my blogging strategy (along with a LOT of hard work). In June 2018 I decided to start Blush Influence, a space where fellow bloggers could communicate, learn and collaborate. Check out our landing page here and our Instagram account here.
Are you married? Kids?
I live with my boyfriend and our fur-baby, Jackson (our 6-month-old Golden Retriever).
What is your favorite thing about yourself?
My ability to emotionally connect with others in meaningful ways. Even as I child I remember people sharing things with me that they would say they had never shared with anyone else, and whatever it is that makes people feel safe with me is the biggest privilege I could imagine. Unique relationships with my friends, family and colleagues have made my life rich in ways I could never have imagined.
Physically? I love my squinty eyes. My whole life I wished my eyes would be wider until I hit adulthood and realized the squintier they are the happier I am…and true happiness is worth the "are your eyes closed?" pictures and wrinkles!
What is your biggest insecurity?
I definitely fall prey to the comparison-game more often than I'd like to admit. With social media its so easy to see the highlight reel of other girl's lives and think you are lesser or behind or missing "something". To fight it, I work on staying present, regularly prayer, focusing on my own path, and positive self-talk.
What are your top three must-have items in your closet?
Here are my favorite booties, sunnies and jeans!

Do you have extensions? How do you curl your hair?
I sometimes where Bellami clip-in extensions for length (pictures where my hair looks shorter I'm just back-combing for volume // no extensions). In July I'm trying Naturally Beaded Row Extensions (will give a full review once I have them)! Extensions or not, my biggest hair-curling tip is make sure you don't curl your hair all the way to the ends! Leave 2-3 inches out to create beachy waves.